The Credit Union Difference
Credit unions are member-owned, not-for-profit and cooperative financial institutions. That means you actually own your money and have a say in what happens with it. A volunteer board of directors, elected by the members, oversees the credit union's strategy guided by its members' needs.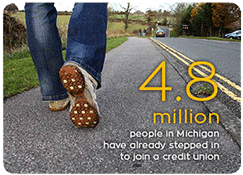 Taking a step into your credit union is good for your health...your financial health.
More than 500 people in Michigan do it every day.
They get great low rates on auto loans and credit cards. Plus fewer fees, money-saving discounts, and over 1,600 surcharge-free ATMs.
Already a member?
Then let us show you how much more your credit union can do for you.